wstecz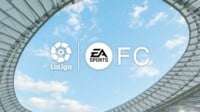 EA Sports sponsorem tytularnym La Liga
Duża zmiana na hiszpańskim podwórku – La Liga od sezonu 2023/24 zmieni swojego sponsora tytularnego. Obowiązująca umowa z bankiem Santander nie zostanie przedłużona, a nowym sponsorem piłkarskich rozgrywek w Hiszpanii zostanie EA Sports.
Według hiszpańskiego dziennika Marca, 5-letnia umowa będzie kosztować Electronic Arts ponad 200 milionów euro. Na jej mocy amerykańskie studio zyskało prawa do nazwy, logotypu oraz innych form wizualnych. Kontrakt dotyczy La Liga, Segunda Division, La Liga Promise (rozgrywki młodzieżowe) oraz eLa Liga.
EA will become the main sponsor of La Liga from 2023-24.

The deal will include EA Sports naming rights for the league in a deal worth $205M over five years, per @partidazocope 🎮🇪🇸 pic.twitter.com/9EtpGIP3Qo

— B/R Football (@brfootball) August 2, 2022

 
Nic dziwnego, że EA zdecydowało się na taki krok. La Liga pomimo odejścia takich gwiazd jak Leo Messi czy Cristiano Ronaldo, nadal ma w swoich szeregach wielkich graczy. W następnym sezonie na hiszpańskich boiskach zobaczymy między innymi Roberta Lewandowskiego, Viniciusa Juniora czy Karima Benzemę
O sile hiszpańskiej ligi świadczy również zainteresowanie sponsorów. Świetny przykładem jest umowa podpisana pomiędzy FC Barceloną a Spotify. Dzięki niej szwedzka firma uzyskała prawa do nazwy stadionu Blaugrany, który od następnego sezonu będzie nazywać się Spotify Camp Nou.
🔴 Barcelona - Spotify: umowa na trzy lata o wartości 280M euro. Sponsor na koszulkach męskiej drużyny i Femení, koszulka treningowa i prawa do nazwy stadionu. [RAC1] (2️⃣) pic.twitter.com/No5VQ2lMHr

— BarcaInfo (@_BarcaInfo) February 7, 2022

 
EA ogłosiło, że w najbliższym czasie poznamy więcej szczegółów na temat nadchodzącej współpracy. Dotychczas nie zdradzono oficjalnej nazwy, jaką będą nosić rozgrywki La Liga.
Electronic Arts
Electronic Arts to amerykański producent oraz wydawca gier komputerowych. Spod jego szyldu wyszły takie tytuły jak FIFA, Battlefield czy Need for Speed. EA jest również sponsorem takich klubów jak Juventus czy Real Madryt.
Ekspansja EA w stronę sponsoringu profesjonalnych organizacji sportowych wynika po części z rozłamu, do jakiego doszło pomiędzy nimi a FIFA. Kością niezgody okazały się zbyt restrykcyjne ograniczenia, które piłkarski związek nakładał na developera. Od następnego roku kultowa gra piłkarska będzie nosić nazwę EA Sports FC.