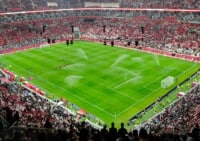 Bukmacherzy optymistami. Kurs 200 na gola Polaków
Polacy rozpoczną mundial od arcyważnego spotkania z Meksykiem. Wygrana z zespołem z Ameryki Północnej znacznie przybliży naszą reprezentację do awansu do fazy pucharowej. Z tej okazji jeden z bukmacherów oferuje możliwość postawienia na strzelenie bramki przez naszych reprezentantów po kursie 200. Dodatkowo każde trafienie Lewandowskiego to dodatkowy bonus o wartości 50 zł.
Wynik spotkania Polski z Meksykiem to sprawa absolutnie otwarta, jednak chłodno kalkulując, aby zgarnąć bonus, nasi reprezentanci nie muszą nawet wygrać tego spotkania. Wystarczy, że strzelą gola. Można naprawdę zyskać.
Jak to działa? Zarejestruj się w Superbet z kodem THESPORT, wpłać depozyt o minimalnej wartości 50 zł i postaw swój pierwszy zakład singiel na gola Polski w meczu z Meksykiem, stawiając minimalnie 2 zł. Jeśli trafisz, otrzymasz wygraną z kuponu oraz dodatkowy bonus w wysokości 400 zł. Co więcej, Superbet zapłaci także 50 zł PLN za każdego gola Lewandowskiego.
Ponadto każdy gracz, który zarejestruje konto z kodem THESPORT i wpłaci pierwszy depozyt o minimalnej wartości 50 zł, otrzyma ekskluzywny bonus o wartości 34 zł. Szczegóły promocji znajdziecie TUTAJ.

Fot. Wiki Commons