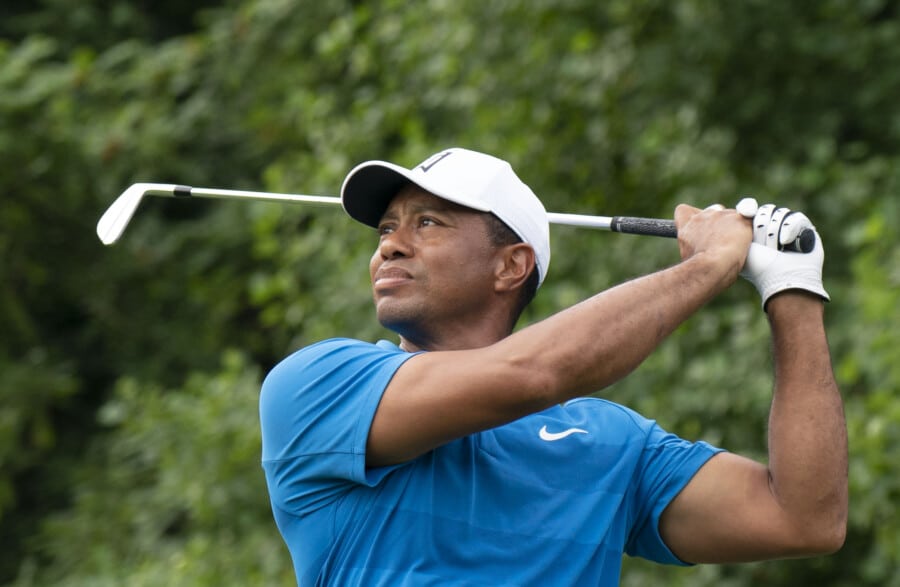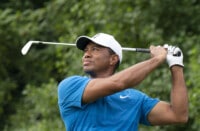 Golf: Nietypowy powrót Tigera Woodsa
W miniony weekend w Orlando odbył się turniej PNC Championship, w którym golfiści PGA Tour stanęli do rywalizacji… wspólnie ze swoimi dziećmi. W turnieju na Florydzie udział wziął m.in. Tiger Woods, dla którego był to pierwszy start w zawodach od czasu wypadku samochodowego, w którym niemal stracił nogę.
PNC Championship polega na rywalizacji drużyn, składających się najczęściej z ojców i synów, choć nie jest to reguła – zdarzają się także zespoły złożone np. z ojców i córek czy dziadków i wnuków. Tegoroczny turniej wygrała drużyna Johna Daly'ego i jego syna – Johna Daly'ego Jr. Na drugim miejscu ze stratą dwóch uderzeń rywalizację zakończył Tiger Woods wraz ze swoim 12-letnim synem – Charlie'm Woodsem.
"Charlie and I had a blast playing together again, playing with the Thomas family; again, we're extremely close so it was a bunch of fun there," Tiger said. Team Woods will tee off at 10:46 am ET with Team Kuchar. – TGRhttps://t.co/59Q9wORpbU

— Tiger Woods (@TigerWoods) December 19, 2021

 
W lutym Tiger Woods doprowadził do poważnego wypadku samochodowego na przedmieściach Los Angeles. Golfista jadąc z dużą prędkością uderzył o krawężnik, wskutek czego jego auto kilkukrotnie dachowało. Według relacji policjantów, którzy wyciągali zakleszczonego Woodsa z wraku, wypadek wyglądał dramatycznie – samochód był kompletnie zniszczony, a Woods miał zmiażdżone kości obu ud, doznał złamania prawej kości piszczelowej i strzałkowej oraz złamania kostki. Po przetransportowaniu do szpitala gwiazdor przeszedł skomplikowaną operację prawej nogi i przez długi czas był zupełnie unieruchomiony. Po kilkumiesięcznej rehabilitacji słynny golfista jest w stanie chodzić, ale nadal jest daleki od całkowitej sprawności, której prawdopodobnie już nigdy nie odzyska.
Woods przyznaje, że lekarze nie byli pewni, czy jego nogę uda się uratować. – Jestem szczęśliwy i wdzięczny, że mogłem tu być. Wciąż mam własną, działającą nogę, a przez jakiś czas wcale nie było to takie pewne – powiedział 45-latek, który podczas turnieju poruszał się głównie za pomocą wózka golfowego.
Ostatnim turniejem Woodsa, zanim doszło do wypadku był… zeszłoroczny PNC Championship. Legendarny golfista nie liczy jednak na powrót do zawodowego sportu. – Jestem daleko od gry w turniejach. Patrząc realistycznie, mogę jeszcze trochę pograć, ale nigdy więcej w pełnym wymiarze – przyznał Woods.
Tiger Woods has been taken to hospital after being injured in a car crash in Los Angeles

LA County Sheriff's Department said: "Mr Woods was extricated from the wreck with the 'jaws of life' by Los Angeles County firefighters and paramedics"

Read more: https://t.co/tqMOg374Lc pic.twitter.com/svgWt7rkQ3

— Sky News (@SkyNews) February 23, 2021

 
Fot. Wiki Commons, Quicken Loans National, CC 2.0