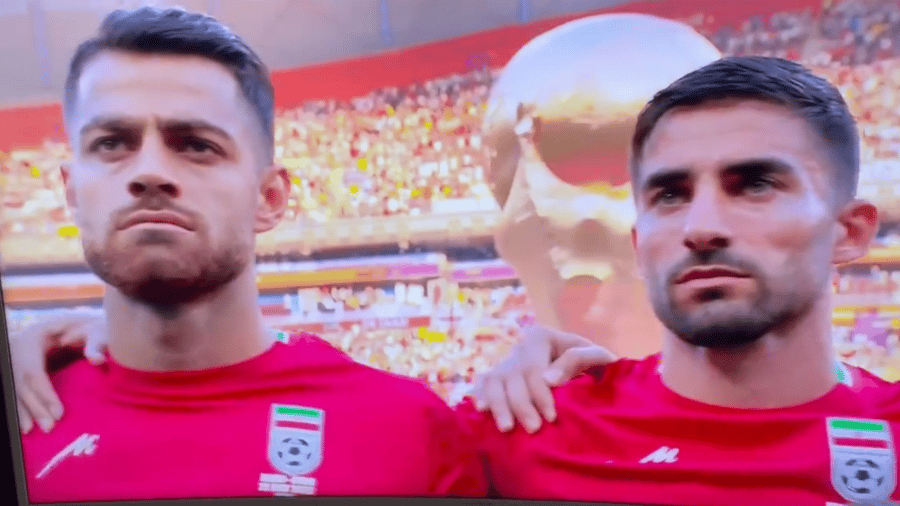 Irańscy piłkarze protestują w Katarze
Mecz Anglii z Iranem rozpoczął się od protestu reprezentacji Iranu. Piłkarze milczeli podczas odgrywania hymnu swojego kraju. Zawodnicy w ten sposób zaangażowali się w protesty, które w ich kraju wybuchły po morderstwie 22-letniej kobiety przez tzw. "moralną policję".
22-letnia Masha Amini została zabita przez irańskich funkcjonariuszy w październiku. Kobietę aresztowano za brak odpowiedniego nakrycia głowy. Trzy dni później ogłoszono, że zmarła – oficjalnie z powodu "guza mózgu". Jej śmierć wywołała w Iranie falę protestów. Zatrzymano kilkanaście tysięcy osób.
Do tych postanowili włączyć się także irańscy piłkarze, którzy podczas swojego pierwszego meczu na mundialu w Katarze przeciwko reprezentacji Anglii w geście sprzeciwu odmówili odśpiewania hymnu.
Breaking: Iran national football club stand mournfully and refuse to sing national anthem of clerical regime during first match against England at World Cup 2022 in act of protest against Khamenei henchmen's violence pic.twitter.com/qPmX2hdMKP

— Borzou Daragahi 🖊🗒 (@borzou) November 21, 2022

 
– Mamy nadzieję, że w kraju wszystko się zmieni. Nie chcemy, aby nasz naród był nieszczęśliwy. Chcemy być głosem protestujących – mówił przed meczem na konferencji prasowej kapitan irańskiej kadry – Ehsan Hajsafi.
___

Podobają Ci się nasze teksty? Wesprzyj nas na BuyCoffee! To dzięki Wam treści na TheSport.pl nadal mogą być ogólnodostępne. Dziękujemy za regularne odwiedzanie naszego portalu!

Fot. Twitter