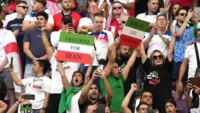 Irańskie protesty w Katarze
Najpierw piłkarze nieśpiewający hymnu, a teraz transparenty, hasła, okrzyki i łzy kibiców na trybunach. Irańczycy próbują zwrócić uwagę świata na nieludzki system panujący w ich kraju po zabójstwie 22-letniej kobiety przez "policję moralności".
Podczas meczu Iranu z Walią wygranego przez Persów 2:0 kibice licznie przynieśli na trybuny transparenty nawiązujące do morderstwa Mashy Amini. 22-latka została zabita przez irańskich funkcjonariuszy w październiku. Kobietę aresztowano za brak odpowiedniego nakrycia głowy. Trzy dni później ogłoszono, że zmarła – oficjalnie z powodu "guza mózgu". Jej śmierć wywołała w Iranie falę protestów. Zatrzymano już kilkanaście tysięcy osób. Nieznana jest liczba ich ofiar.
Protesty z Iranu przeniosły się na katarskie boiska. Jedna z fanek z wymalowanymi na twarzy barwami irańskiej flagi oraz krwawymi łzami przyniosła na stadion piłkarski trykot z nazwiskiem Mashy Amini. Ochrona stadionu zarekwirowała koszulkę. W podobny sposób stewardzi próbowali odebrać irańskim kibicom również flagi narodowe przyozdobione hasłami nawiązującymi do łamania w ich kraju praw człowieka.
Security has confiscated the Iran fan who held up a shirt to protest the death of Masha Amini.#FIFAWorldCup #FIFAWorldCupQatar2022 pic.twitter.com/2JntZ7li1c

— Qatar 2022 World Cup (@qatarwc_2022_) November 25, 2022

 
Officials in #Qatar are running interference for the Islamic Republic and are very threatened by a fan holding up a flag that has "woman, life, freedom" imprinted on it. #Iran #FIFAWorldCup pic.twitter.com/xpZrayjimh

— Jason Brodsky (@JasonMBrodsky) November 25, 2022

 
Pierwszy mecz Iranu z Anglią również rozpoczął się od protestu – irańskich piłkarzy, którzy milczeli podczas odgrywania hymnu swojego kraju. W drugim meczu Irańczycy hymn już co prawda śpiewali, ale robili to bez wyraźnego entuzjazmu. Można przypuszczać, że zostali do tego zmuszeni. Z kolei kibice na trybunach podczas jego odgrywania wykrzykiwali hasła uderzające w irański reżim.
This is so powerful! The Iranian national team refused to sing their national anthem during the match with England. This way the players wanted to support the anti-government protests in Iran. We stand with the brave Iranian people! pic.twitter.com/S3mW3AuLAV

— Roman 🇺🇦 Sheremeta (@rshereme) November 21, 2022

 
Iran's national team deserves our respect and solidarity. With the world's eyes on them before their first World Cup game, Iran's players stood silent during their national anthem in protest against the country's regime. This took real bravery. FIFA should take notes. pic.twitter.com/RXav5JW8zh

— VERSUS (@vsrsus) November 21, 2022

 
– Mamy nadzieję, że w kraju wszystko się zmieni. Nie chcemy, aby nasz naród był nieszczęśliwy. Chcemy być głosem protestujących – mówił przed pierwszym meczem na konferencji prasowej kapitan irańskiej kadry – Ehsan Hajsafi.
_____________

Podobają Ci się nasze teksty? Wesprzyj nas na BuyCoffee! To dzięki Wam treści na TheSport.pl nadal mogą być ogólnodostępne. Dziękujemy za regularne odwiedzanie naszego portalu!

Fot. Twitter