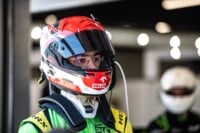 Mateusz Kaprzyk wraca na tor
Sezon European Le Mans Series dobiega końca. Tym razem kierowcy będą rywalizować podczas 4-godzinnego wyścigu w Belgii. Mateusz Kaprzyk powalczy o punkty na torze Spa-Francorchamps.
Wymagający sezon wchodzi w decydującą fazę. Mateusz Kaprzyk, zawodnik ORLEN Team i jedyny polski kierowca w European Le Mans Series celuje w dobry wynik w Belgii.
– Chcę dać z siebie jak najwięcej. Skupiam się na sobie i swojej pracy, żeby pojechać jak najlepiej. Tor w Spa nie jest moim ulubionym, ale też nie czuję się na nim źle – mówi Mateusz Kaprzyk.
Circuit de Spa-Francorchamps, na którym odbędą się najbliższe zawody ELMS, to słynny obiekt, który w ostatnim czasie nieco się zmienił. Polski kierowca wskazuje, że na poboczach pojawiło się więcej żwiru, a słynny zakręt Eau Rouge został nieco poszerzony.
Zawodnik Inter Europol Competition ma za sobą tygodnie przygotowań. Po ostatnim występie w Barcelonie miał kilka dni na złapanie oddechu, a po nim skupił się na treningach przed kolejnym startem.
Rywalizacja w Belgii rozpocznie się od piątkowego treningu. Klasa LMP3, w której startuje Kaprzyk, rozpocznie kwalifikacje w sobotę o 14:47. Niedzielny wyścig 4 Hours of Spa-Francorchamps rozpocznie się o 11:30.
Zbliżający się start to przedostatnia runda w 2022 roku. Finał sezonu odbędzie się 16 października w portugalskim Portimao.