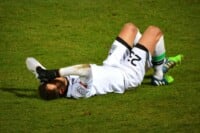 MLS bierze się za symulantów
Końcówka spotkania. Zawodnik drużyny broniącej wyniku wskutek minimalnego kontaktu z rywalem pada na murawę i nie wstaje. Wszyscy wiedzą, że próbuje kupić trochę czasu swojemu zespołowi, aby ten mógł dowieźć korzystny rezultat, ale nikt mu tego nie udowodni. Tego typu sceny wielokrotnie obserwował każdy kibic piłkarski, mogąc odczuwać jedynie frustrację i bezradność. MLS mówi jednak dość i – dosłownie – zmienia reguły gry.
Aby przeciwdziałać tego typu nadużyciom Amerykanie przetestują nowe przepisy na swoim poligonie doświadczalnym – w lidze MLS NEXT Pro, stanowiącej zaplecze właściwego MLS. Co się zmieni?
Od teraz w sytuacji gdy piłkarz leży na boisku dłużej niż 15 sekund, na plac gry wbiegną medycy, z których pomocą zawodnik będzie musiał opuścić boisko. Jeżeli do tego dojdzie, nie będzie mógł on jednak wrócić do gry szybciej niż po upływie trzech minut. Wyjątkiem będą urazy głowy, problemy z wydolnością krążeniową lub inne potencjalnie poważne kontuzje.
– Jesteśmy przekonani, że ta reguła będzie miała pozytywny wpływ na grę. Pozwoli ona nie tylko medykom pomagać piłkarzom pod mniejszą presją, ale także powstrzyma graczy celowo opóźniających mecz – tłumaczy Ali Curtis z MLS.
Starting with this week's matches, we're introducing two new rules focused on off-field treatment and red card suspensions.

Details: https://t.co/9bFrXGAg4L pic.twitter.com/DeZ2UfQuYe

— MLS NEXT Pro (@MLSNEXTPRO) July 7, 2022

 
To nie koniec rewolucji. Drugą testowaną przez MLS zmianą przepisów będzie zmiana zasad dotyczących odbywania kar za kartki. Od przyszłego sezonu w MLS NEXT Pro zawodnik, który otrzyma czerwoną kartkę, zamiast pauzowania w kolejnym spotkaniu, będzie musiał opuścić kolejny mecz przeciwko drużynie, w spotkaniu z którą został ukarany czerwienią.
Jeżeli nowe przepisy zdadzą egzamin, to w przyszłości będą mogły zostać zaimplementowane do pierwszej MLS, a kto wie, może kiedyś zawitają również do Europy?