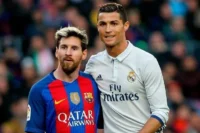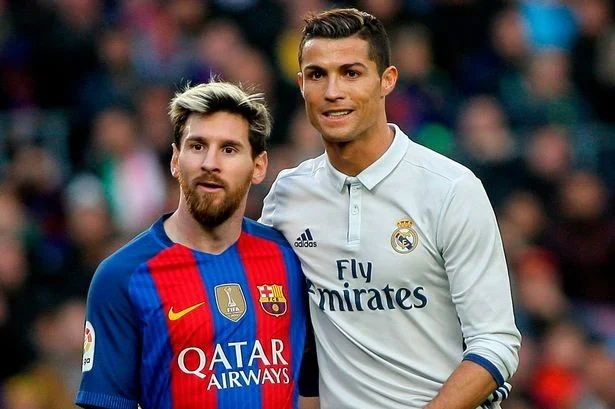 "Next Messi" and "New Ronaldo" – our study of a career-ending media trend
Every once in a while, somewhere in the world, someone's camera catches a child clearly better at football than their peers. Then the sports media reach for the oldest and most clichéd of narratives – thus the next 'new Messi' or 'next Ronaldo' is born. At other times, comparisons are drawn even more simply – a talented young Argentinian? A fresh talent at Manchester United? Or maybe just a winger with a neat haircut? (Un)fortunately – it doesn't take much to be dubbed a future serial Golden Ball winner by the newspapers. Inspired by this phenomenon, I've gathered together a decade's worth of media coverage to see how many new Messi or Ronaldo's we've had so far and, incidentally, whether any have managed to climb to the heights predicted for them.
Genericide is a marketing phenomenon, when a trademarked name becomes so prevalent, that it no longer describes a single product, but a whole group of similar items. Most notably – frisbee, band-aid or aspirin, which nowadays are basically categories. When it comes to football, it's beginning to seem that the names of the two potentially best players to ever grace the game may be getting genericised, naming not only two men, but entire groups of comparable players.
Above all, they are the benchmark, the final bar on the spectrum of footballing ability. Children play football to become Messi or Ronaldo. Their often overambitious parents drive them to 3 training sessions a week looking to raise Messi or Ronaldo. Scouts go all over the world in search of Messi or Ronaldo. A higher ceiling simply does not exist.
"Messi" and "Ronaldo" are synonymous with the very top.
Methodology
Not quite the most interesting part, so in a nutshell:
The data I collected in this study is from the second decade of the current century. The opening year 2010 is respectively one and two years after Cristiano Ronaldo and Lionel Messi won their first Balon D'Or, while the period 2020-2022 seems still too fresh to verify the validity of journalistic comparisons.
I therefore filled the database with a total of 1600 results from Google searches – 80 from each of the 10 years, separately for both footballers. Each result contained at least one mention of "new Messi/Ronaldo" (or some similar alteration, such as "next Cristiano Ronaldo" or "Messi successor").
After weeding out the irrelevant data (Hard Rock Cafe and their "new Messi burger" or any shops selling new shoes from Messi's or Ronaldo's collection), less than a third of the results remained on the table. Quantified below:
Most popular mentions (who and from where)
The honourable title of the primary "new Messi" goes to Paulo Dybala. His name first began to break through around 2014, when the Argentine was still a little-known talent in the ranks of Palermo. His rapid breakthrough and transfer to Juventus fuelled the imagination of journalists, who then labelled him a "new Messi" a total of 36 times.
Later, this title, just like in case of the second placed Bojan Krkic (32 mentions), started to weigh heavily on him, becoming a hot potato exchanged by him and the media. Newspapers persistently wrote that Dybala was the new Messi, and the Argentine gave interview after interview saying he was not at all.
On the Ronaldo side, the media didn't fetch too far either, as they focused on his national team. Joao Felix (24 mentions) may not resemble his older colleague in terms of playstyle, but his path from the Portuguese league to a big club has evoked obvious associations. The entire top ten (with the exception of Kylian Mbappe and Gareth Bale) follows a fairly simple pattern – a young attacker at Manchester United or the Portuguese national team? Next Ronaldo.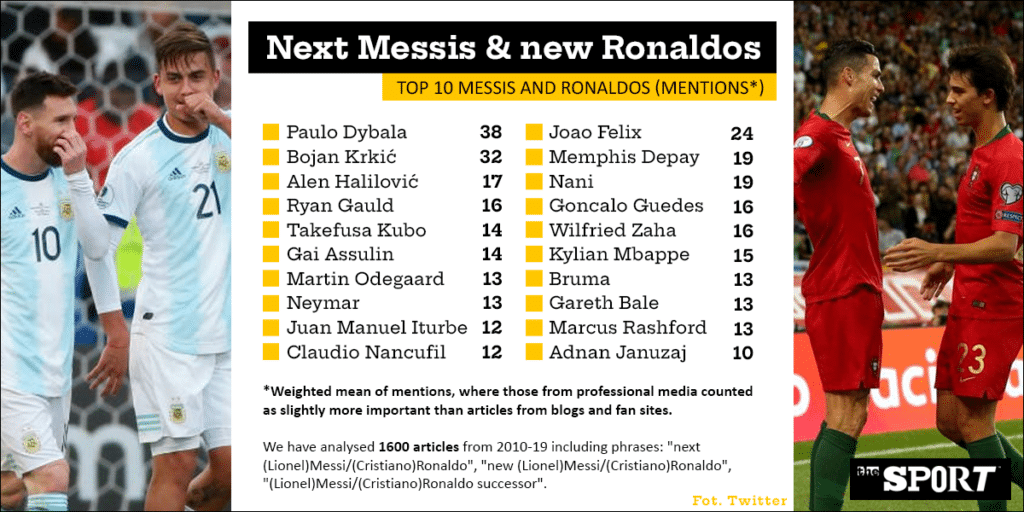 The correlation is even more pronounced in the case of Messi's supposed doppelgängers – every outstanding player in Barcelona's youth teams or any other club in Argentina's Primiera Division would automatically become a media mascot.
Two 7-year-olds – Leonel Angel Coira and Claudio Nancufil (4 and 12 mentions respectively) – are special cases. The former, similar to Messi, was spotted by Real Madrid in Argentina, while the latter was labelled 'Messi of the Andes' in his early childhood. Nancufil was covered by the world's biggest media, which predicted a huge career for him and linked him with top clubs (according to some sources, he was tested at Barcelona). Today, they are 18 and 17 years old respectively, and are downright anonymous (both are most likely playing in Argentina).
Manchester United have been obsessed with finding a new version of CR7 for years – any young winger arriving at Old Trafford is immediately pressured into the Portuguese's shoes, which so far has not helped the career of any of them. In addition to Memphis Depay, Nani (19 mentions each), Wilfried Zaha (16), Marcus Rashford (13) and Adnan Januzaj (10) mentioned in the chart below, a dozen more teenagers have been compared, including Gabriel Obertan (5) Anthony Martial (9) or even… Diogo Dalot. Writing in 2018 about the latter, The Sun took an emphatic dig, titling the article: "He was once rated as the next Cristiano Ronaldo… now he is Manchester United's new Gary Neville".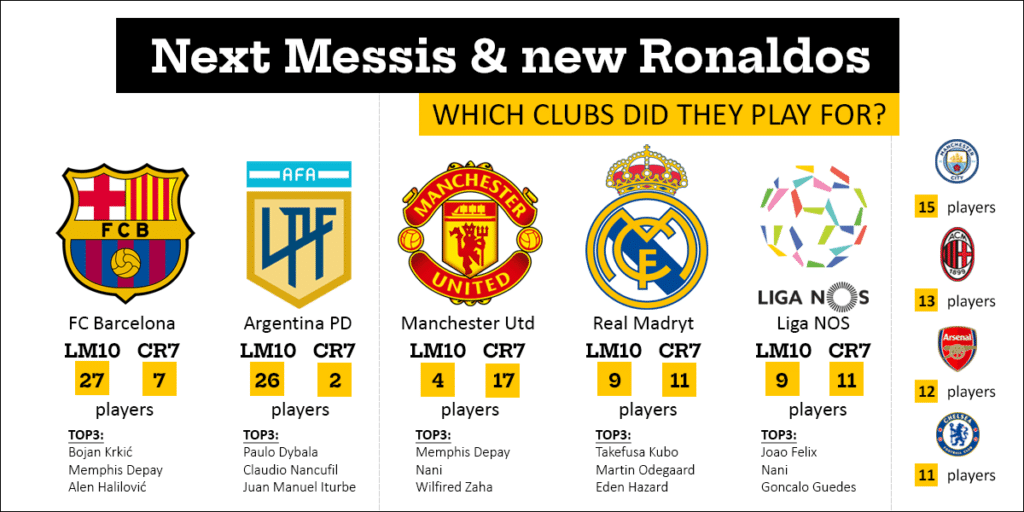 While most players unsurprisingly come from Europe (mainly England, due to the analysis being focused on English-language articles) and South America, it is Asia where it gets most interesting Hungry for world-class stars, the continent has long been trying to create a player who would make it count in world football (Heung-min Son has arguably become such a player in the meantime, listed with just one mention).
As a result, right next to Messi or Ronaldo, Asian journalists trying to promote local youth would add names that (in hindsight) proved to be completely ridiculous. Chanathip Songkrasin was supposed to bring Thai football to a new level, Humam Tariq – analogously in Iraq, while the world was promised to hear about Malaysian football thanks to Wan Kuzain Wan Kamal and Faiz Nasir. Indonesian Tristan Alif Naufal even wrote a book about himself, explaining why exactly was he dubbed the "new Messi".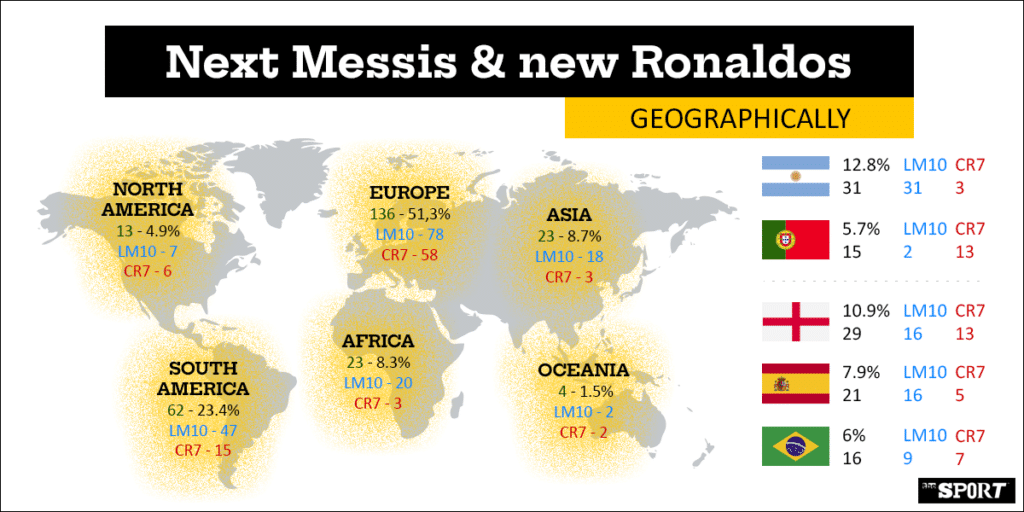 Who made it and who missed out?
As a measure of a footballer's success, for lack of better indicators, I have chosen the highest historical transfer value on Transfermarkt. Thus, by selecting footballers who appeared in a minimum of two articles (in order to weed out random results, such as articles about competitions from school newsletters), I managed to pick out both the 10 best and most unsuccessful media predictions.
(For the table with the worst predictions, please take into account that more than 40 footballers do not have a profile on TM, so it was impossible to determine their value)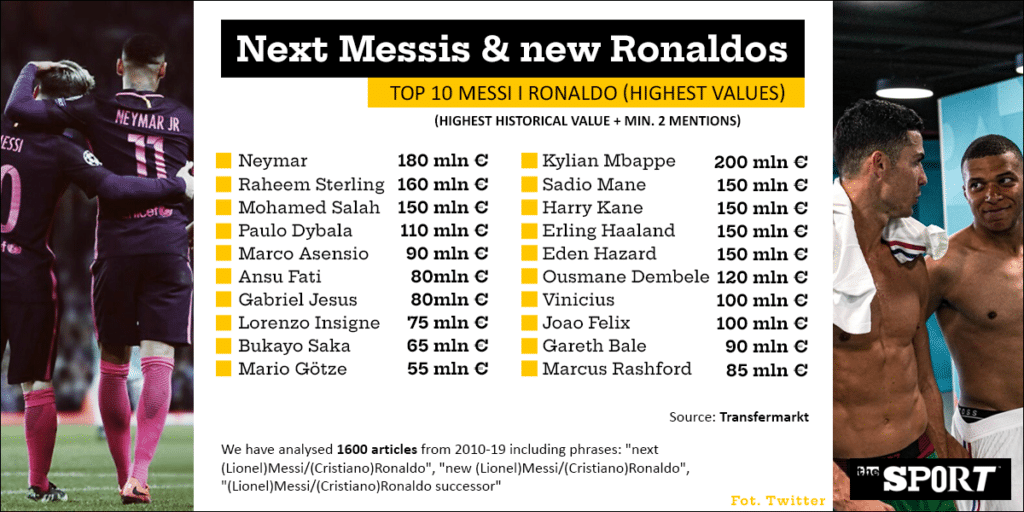 In first place on both lists was PSG's current attack, Neymar and Kylian Mbappe, who actually play in a trio with Lionel Messi. The 'Messi' top ten is completed by the once world-class German talent, Mario Gotze, who owes his Messi-nickname to Franz Beckenbauer. Interestingly, the former Borussia Dortmund player admitted in an interview that he would prefer to be compared to Ronaldo.
At the other end we have a noticeable result of the aforementioned Asian 'promotional campaigns', but also two players incredibly hyped years ago, who failed to live up to their potential – Gai Assulin and Hachim Mastour. On Ronaldo's side there were no such spectacular misfires, but the list is opened by a player who could be deemed a symbol of the entire trend – Bebe (Premier League champion, Bebe). A player that Sir Ferguson had never even seen before his transfer to England, one of the worst strikers in United's history.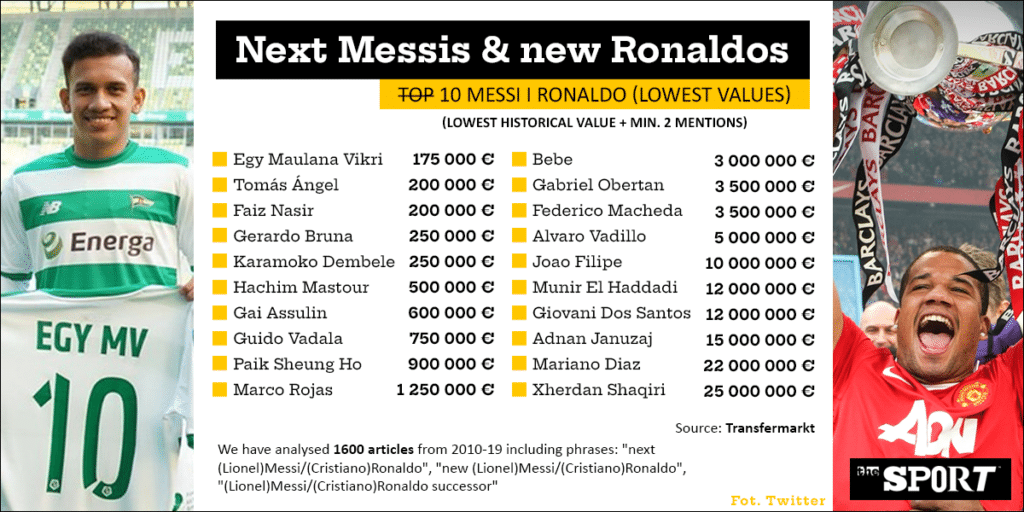 It is also worth looking at the more or less successful "scouting campaigns" of the mainstream media. Below you can see a list of footballers who made it to the press being at most 15 years old. Particularly exciting is the case of Takefusa Kubo, who – along with Ansu Fati – was featured in clips from La Masia's youth matches, aged just 10.
Also eye-catching is the youngest on the list, Juan Pablo Angel's son Tomas, who charmed journalists with his fancy dribbling at a youth tournament when he was only 8. Today he plays for Atletico Nacional in Colombia.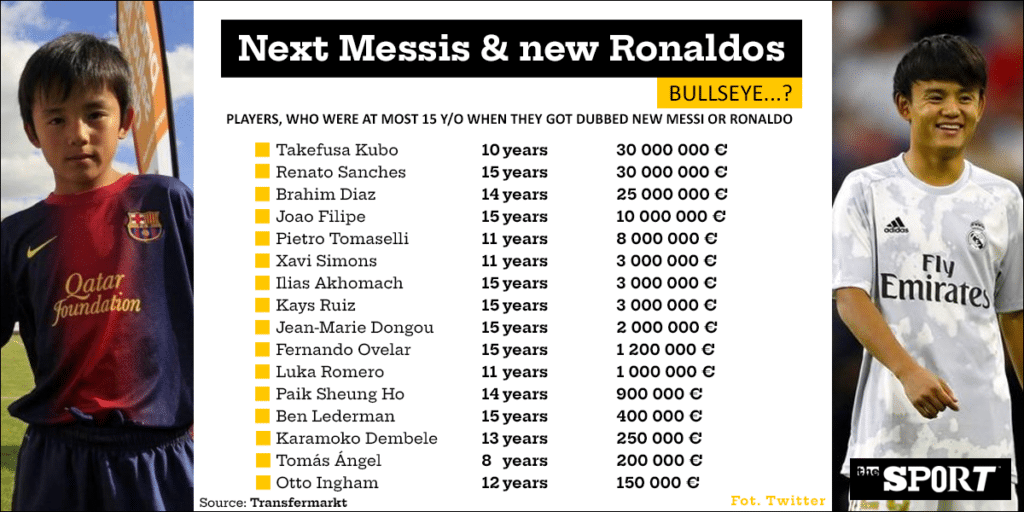 Where to look?
While collecting the data, I simultaneously noted the media portals that recurred most frequently in the analysis. Due to the study of English-language content, the UK and the US are the leaders, while a bulk of the content also comes from Asia and Africa.
Bleacher Report is the undisputed leader in terms of the number of players featured, "responsible" for almost every tenth player in the list. The American journalists would often prepare full rankings and galleries of players dubbed the "new Messi/Ronaldo", hence the disproportion between the number of players and articles.
As for separate articles with the analysed phrases – the highest number of such articles can be found in the British Mirror (29 texts).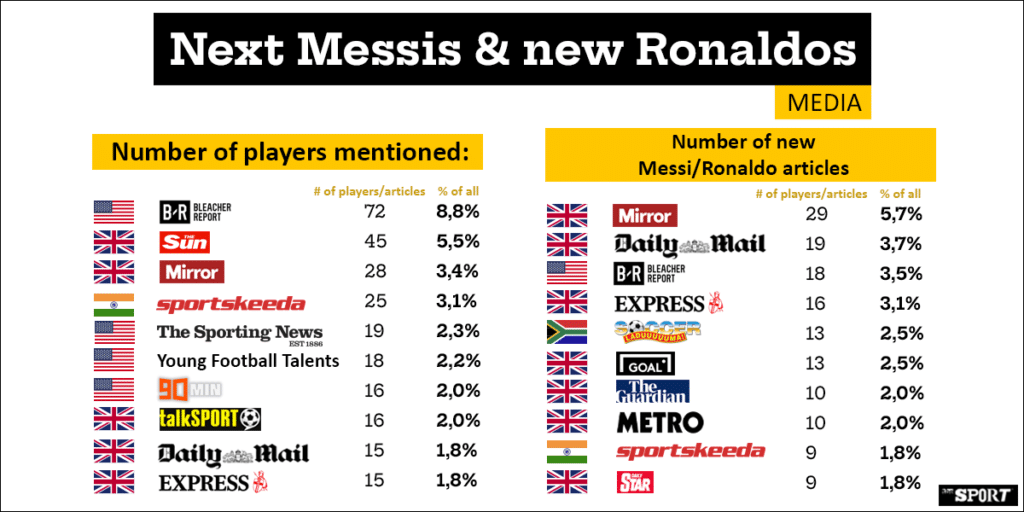 Fun and trivia
As is often the case when tinkering with such an extensive amount of content, there were a few unusual anomalies along the way: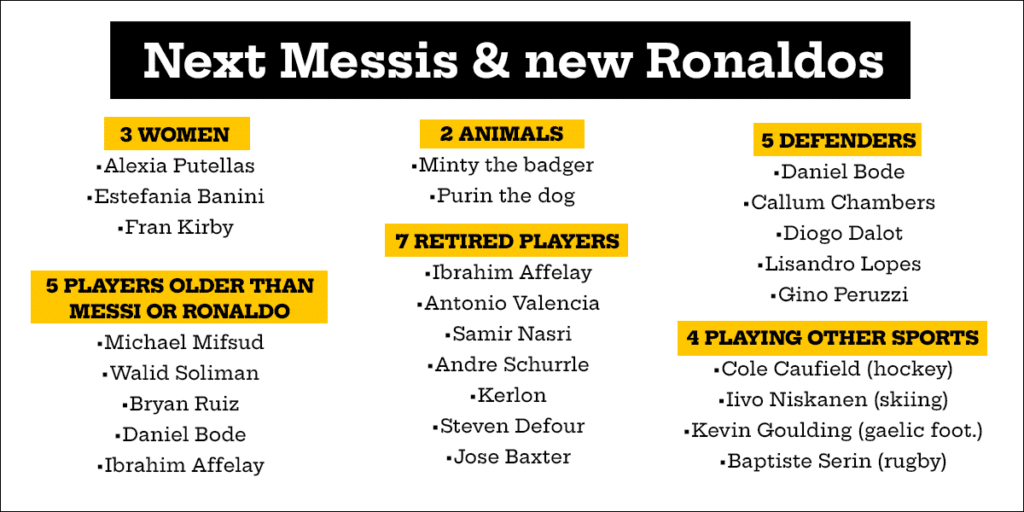 And to be honest, it's a difficult choice between Minty the badger and Callum Chambers for the most surprising hit….
What else is there to say?
The term 'New Messi' does not always imply a direct comparison to the Argentine's skills – usually the phrase was used to describe someone simply good at football, as indicated by the large Messi-Ronaldo disparity in Africa and Asia, for example.
As many as 20 players were compared to both Messi and Ronaldo, sometimes even in the same media. The most frequent were: Kylian Mbappe (Messi: 8; Ronaldo: 16), Neymar (13;7) and Eden Hazard (5;8)
The cases of few-year-old children standing out from their peers are particularly media-bearing. For example, then 6-year-old Australian Antonio Hanxhari was dubbed the "new Messi" when in 14 games he netted… 124 goals.
What is much less talked about in this context, however, is how damaging it can be for a young footballer's career to be too carelessly labelled a revelation. Bojan Krkić or Gerard Deulofeu, two once superb talents from La Masia, said years later how they suffered significantly from regular comparisons to Messi. Although they both went on to have great careers (arguably to the best of their ability), they will nevertheless be remembered as wasted talents for years to come.
Alongside Krkic and Deulofeu, the names listed in this analysis include a number of young lads who simply fell by the wayside after too early media exposure, and it would not be an exaggeration to assume that they failed to carry the pressure they were not yet ready for.
And the search for new Messis and Ronaldos continues…
To finish, here is a list of footballers with at least two mentions: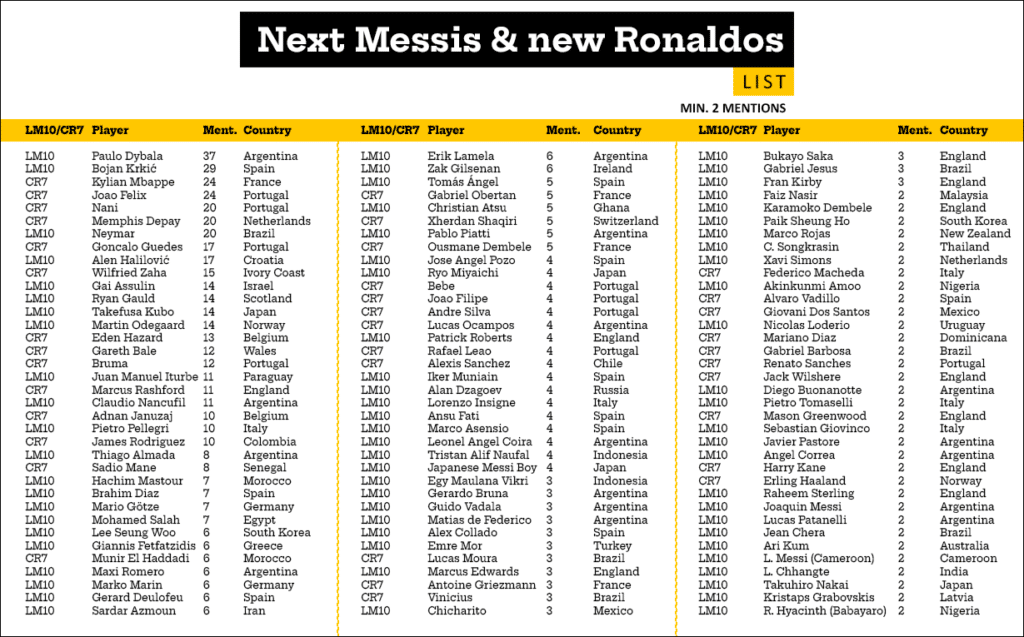 Fot. Twitter