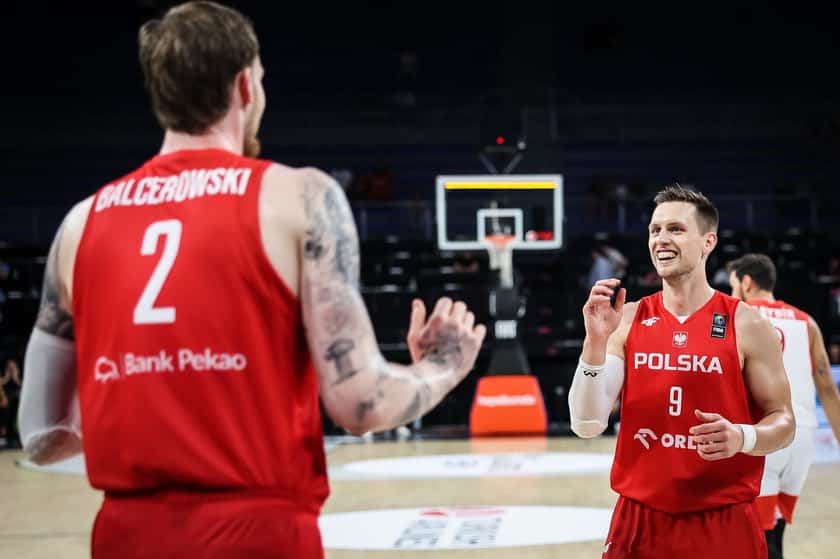 Poznaliśmy zarobki polskich koszykarzy w Eurolidze
Trwa sezon Euroligowy, a w składach zespołów jest dwóch Polaków – Mateusz Ponitka oraz Aleksander Balcerowski. Okazuje się, że Polacy za grę w sezonie 2023/24 zarobią bardzo dobre pieniądze.
Mateusz Ponitka nie notuje udanego początku sezonu – ma to bezpośredni związek z kontuzją, jakiej nabawił się jeszcze w meczach sparingowych. Kapitan reprezentacji Polski zagrał w tym sezonie Euroligi tylko 14 minut i zapisał w tym czasie 2 punkty. Nieco lepiej było w lidze ABA, gdzie w dwóch spotkaniach notował średnio 7 punktów, 5 zbiórek oraz 2,5 asysty. Skrzydłowy za sezon 2023/24 zarobi 600 tysięcy euro netto.
Najmniej ciekawą sytuację ma z kolei Aleksander Balcerowski, którego Panathinaikos Ateny notuje bardzo słaby start kampanii 2023/24. Podkoszowy reprezentacji Polski nie jest ulubieńcem trenera Ergina Atamana i pojawiły się nawet wstępne doniesienia, że Balcerowski, który tego lata grał w Lidze Letniej NBA w barwach Boston Celtics, może być na wylocie z klubu. 
To jak jest w tych Boston Celtics?
👌👌👌
Olek Balcerowski 🔥#nbapl #koszkadra #plkpl 
CC Celtics pic.twitter.com/DYwJw8dT21

— Mateusz Ligęza (@LigezaMateusz) July 12, 2023

  
Jak na razie Balcerowski rozegrał 10 meczów w barwach ekipy z Aten i najlepiej spisuje się w lidze greckiej, gdzie notuje średnio 4 punkty oraz 4,8 zbiórki. Polak za ten sezon ma zarobić 500 tysięcy euro netto.
Wszystkie mecze Polaków w Eurolidze można oglądać w Polsacie Sport. Stacja wykupiła prawa do transmitowania meczów reprezentantów Polski oraz pokazuje dodatkowo jeden, najlepszy mecz w każdej kolejce. Cały sezon najlepszej ligi na Starym Kontynencie można oglądać na League Passie, który można zakupić na stronie Euroligi.
FOT. PZKosz