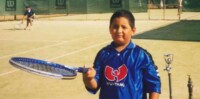 Rozpoznasz sportowców po zdjęciach z dzieciństwa?
Niedawno internet viralowo obiegła fotografia Nicka Kyrgiosa z dzieciństwa. Choć to Novak Djoković triumfował w Wimbledonie, to właśnie zdjęcie młodego Australijczyka skradło serca kibiców. Na fotografii młody Kyrgios w wyraźną nadwagą pozuje z rakietą w koszulce Wu-Tang Clanu. W tamtym okresie raczej nikt nie podejrzewałby, że dwie dekady później ten sam chłopak będzie walczył o wygraną w turnieju wielkoszlemowym.
Grand Slam finalist. pic.twitter.com/QcCn04xj5V

— José Morgado (@josemorgado) July 7, 2022

 
Przedstawiamy zdjęcia gwiazd sportu z ich dzieciństwa – sprawdź czy uda ci się je rozpoznać!
Zdjęcia: Twitter