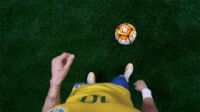 Transmisja z perspektywy piłkarza?
Ujęcia z drona, renderowanie w 3D, a teraz… mini-kamery ulokowane na koszulkach piłkarzy. Właśnie z takiej perspektywy mogliśmy oglądać niedawne spotkanie AC Milanu z FC Köln. Świat sportu stale próbuje wykorzystywać technologię do ulepszenia zarówno rywalizacji na boisku, jak i jej oprawy. Czy widok z pierwszej osoby to przyszłość transmisji? Jakie innowacje jeszcze przed nami?
W niedawnym meczu towarzyskim w Kolonii AC Milan pokonał 2:1 FC Köln, jednak to nie wynik tego spotkania jest najważniejszy, a perspektywa, z jakiej kibice przed ekranami telewizorów mogli śledzić niektóre fragmenty rywalizacji na boisku. Dzięki technologii bodycam, w skład której wchodzą kamery i mikrofony umieszczone na koszulkach zawodników, oglądając zagrania piłkarzy, można było poczuć się niczym w grze komputerowej. A do tego usłyszeć, co mają do powiedzenia gracze na boisku.
Cologne players wore a bodycam during their friendly against Milan.

That first person view is so cool 🤯

📽 @fckoeln pic.twitter.com/UqupntqoUO

— Football Tekkers (@BallTekkers) July 17, 2022

 
MATCH DELL'INNOVAZIONE ⚽️

Durante la partita di pre campionato trasmessa ieri in esclusiva su #Sportitalia tra Colonia e Milan, è stato possibile, grazie a una nuova tecnologia, far indossare ad alcuni giocatori una vera e propria telecamera

Risultato ? 👇🏼 pic.twitter.com/E8k36iBura

— Sportitalia (@tvdellosport) July 17, 2022

 
Ujęcia z perspektywy zawodników mogliśmy obserwować już choćby w F1, ale w sportach zespołowych to coś zupełnie nowego. Nagrania z kamer umieszczonych na koszulkach piłkarzy mają na celu zapewnienie lepszych wrażeń kibicom i umożliwienie im spojrzenia na mecz oczami graczy. Z pewnością efekt byłby jeszcze ciekawszy, gdyby tego rodzaju ujęcia zestawić z goglami VR.
Ujęcia z perspektywy zawodników to zaledwie jedna z propozycji na wzbogacenie transmisji wydarzeń sportowych. Coraz częściej mamy również do czynienia z wykorzystaniem dronów. Również podczas gry – tak jak w lidze Fan Controlled Football:
QB - Alphonso Howard Class of 2016 Ben Davis Grad playing in Fan Controlled Football league! #giantsateverylevel pic.twitter.com/Ov8JthaGUC

— Ben Davis Football (@BenDavisFB) April 9, 2022

 
Z racji jednak tego, że dron może ulec wypadkowi, w większości rozgrywek jego użycie nad powierzchnią boiska nadal jest zabronione. Przełomem może być jednak wykorzystanie inteligentnych kamer. Brooklyn Nets pracują nad technologią, która umożliwi oglądanie meczów z dosłownie każdej perspektywy – niczym w grze komputerowej. System kamer AI umieszczonych dookoła boiska skanuje sylwetki zawodników, a następnie w ciągu kilku sekund generuje niewiarygodnie realistyczne renderowanie 3D wysokiej rozdzielczości.
Welcome to the "Netaverse" 🏀

This weekend, the Brooklyn Nets debuted a brand new, innovative video system creates 3D, lifelike renderings in seconds.

The Nets are the first pro sports team in America to implement the technology.pic.twitter.com/TopdvOM9IU

— Front Office Sports (@FOS) January 17, 2022

 
Pierwowzorem tego typu transmisji prawdopodobnie był system TrueView marki Intel, które możliwości mogliśmy obserwować m.in. podczas meczów piłki nożnej i baseballa.