wstecz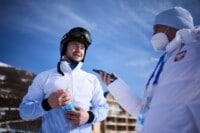 ZIO: Zawody w snowboardzie za nami [BLOG]
Reprezentanci Polski w snowboardzie – Aleksandra Król i Oskar Kwiatkowski zakończyli olimpijską rywalizację na ćwierćfinałach. Jak sami podkreślają – czują niedosyt, ale to zarazem ogromny sukces. Co jeszcze mają do powiedzenia nasi olimpijczycy po zawodach?
Apetyt rośnie w miarę jedzenia, walczyłem o medal (Oskar Kwiatkowski). Nie udało się, ale jestem zadowolony ze swojego startu. Siódme miejsce na igrzyskach olimpijskich to bardzo dobry wynik. Jestem też dumny z całej naszej reprezentacji – trójka polskich snowboardzistów była dzisiaj w ćwierćfinale. To olbrzymia motywacja do dalszej pracy.
Kto wie, może za cztery lata będzie medal? Wrócimy jeszcze silniejsi! Na pewno zrobimy wszystko, co w naszej mocy, aby tak się stało.
Igrzyska olimpijskie za nami, moja drabinka była dzisiaj bardzo trudna (Aleksandra Król). W ćwierćfinale trafiłam na Ester Ledecką, która wywalczyła później złoty medal. Wierzyłam, że jestem w stanie ją pokonać i walczyłam do końca, taka już jestem.
Czuję lekki niedosyt, jednak ostatecznie ósme miejsce na świecie nie jest złe. Wracam do domu, ale obiecuję, że to nie było moje ostatnie słowo. Dziękujemy za wielkie wsparcie. To były niesamowite dwa tygodnie w Pekinie!