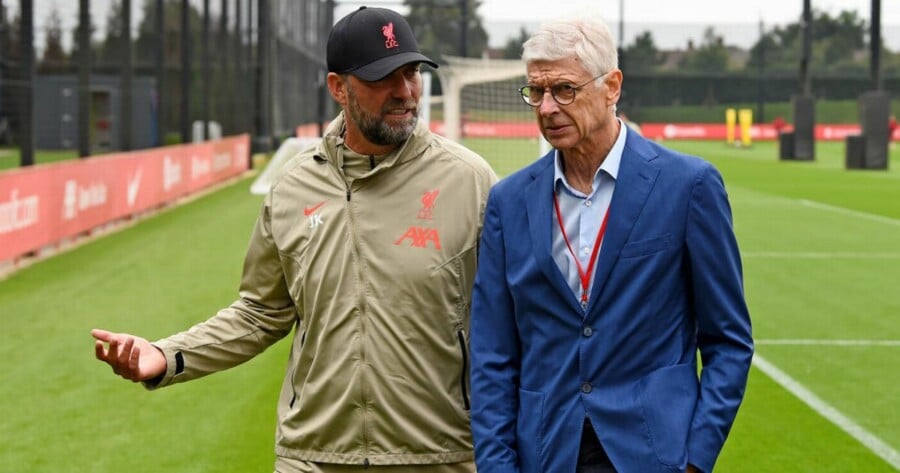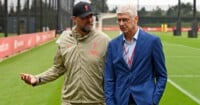 How Arsene Wenger's contract prophecy came true
Despite fans' ever-growing awareness of the transfer market, finances and even individual aspects of accounting, the "free transfer" myth is still alive and well. However, all indications are that in the very near future, everything in this regard – from club PR, media coverage to fan discussions – is set for a major change, with "transfer fee" being replaced by "total cost". It was five years ago that Arsene Wenger warned the football world, for which he was ridiculed. Today, however, it is necessary to give credit where credit is due and, just like that, acknowledge that he was right.
2016/17. Arsenal's two top stars, Alexis Sanchez and Mesut Özil are already eyeing the end of their contracts, starting to pursue favours from other clubs. Collectively valued at around 120 million, both 28-year-olds were fully aware that they were likely to face their last big contract. And the one they got offered London, with little prospect of trophies, barely appeared tempting.
It was this situation that Wenger referred to, reaching for words that, set in the right context, sounded particularly grotesque. After a whole season of begging Sanchez for his signature, telling the media how the Chilean enjoys life in Arsenal, the dispirited Frenchman's statement was as sour grapes as sour grapes get.
– It's not an issue. I think it's an ideal situation. Why? Because everyone has to perform. When you're a football player, you perform until the last day of your contract. Whether you have two or one year left, it doesn't change – Wenger said. JOn the verge of losing two key players, calling the situation "ideal" did not sit well with fans. Especially with the poor negotiator reputation Wenger had secured over the years of his Arsenal tenure.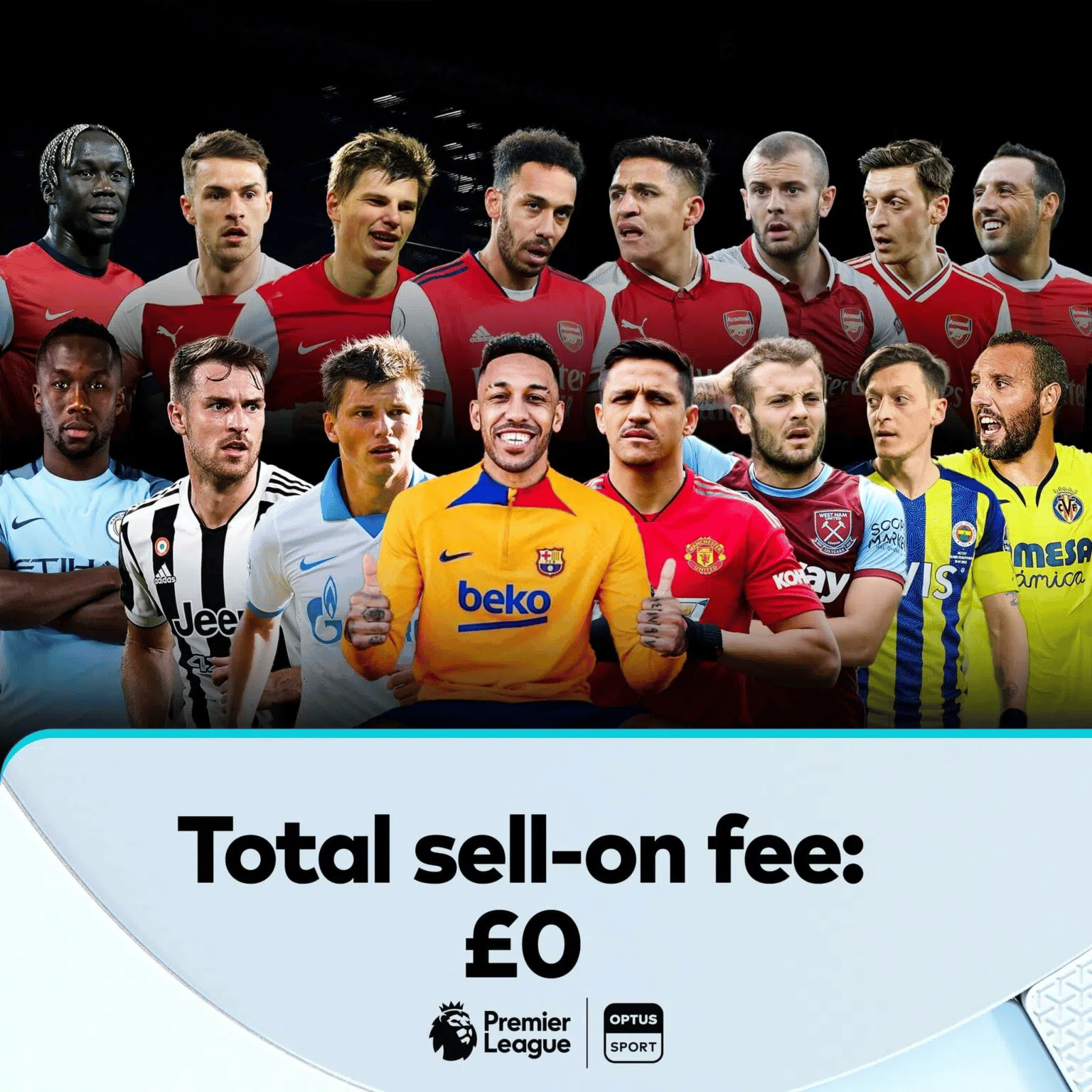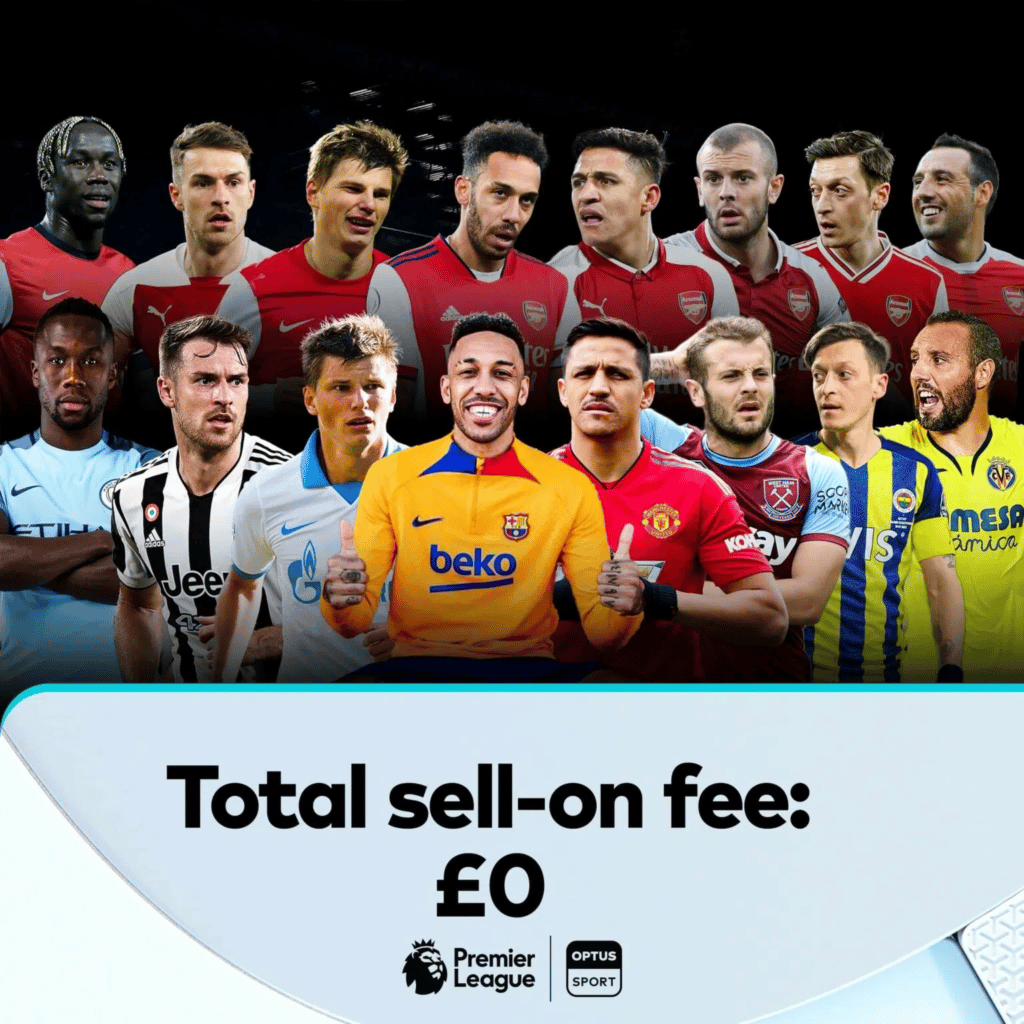 Wenger's prophecy
Fans picked on Wenger for the words above, but far more important is what didn't appear in the headlines:
– I think in the future, you will see it more and more. Why? Because the transfers are so high, even for normal players.
– You will see more and more players going into the final year of the contract because no club will want to pay the amount demanded. In the next 10 years, it will become usual.
Much to his irony, Wenger not only predicted the future of the transfer market, but his words somehow foreshadowed a free agent transfer in which almost everything seemed wrong.
In February 2019, Aaron Ramsey, under the so-called Bosman's Law, signed a contract binding him to Juventus for four years. In the books, the transfer fee shows up as pretty much zero (bar administrative expenses), but the Old Lady paid for the move. And they paid a lot, a lot indeed.
Ramsey, in the Bianconeri colours (completely disregarding the quality of his performances), was one of the highest paid footballers in the history of the sport. He was earning around €400,000 a week, but most interestingly: from Juventus' perspective, the move made a lot of sense.
After all, the Welshman's cosmic salary was 'compensation' for the lack of a transfer fee – by acquiring a player worth around 40 million for free, the Italians could afford to woo him with a fat paycheck, while stripping Arsenal of any logical bargaining chip.
Indeed, a simple calculation shows that Ramsey's contract cost Juve around €80 million. If they had acquired him for 40 million and offered a wage half as high, they would have come out the same.
But back to Wenger – we have put together a chart to verify the accuracy of his 'prophecy'. To do so, we checked how many free agent transfers were made in each season, the value of which at the time fell within the TOP50 of all purchases: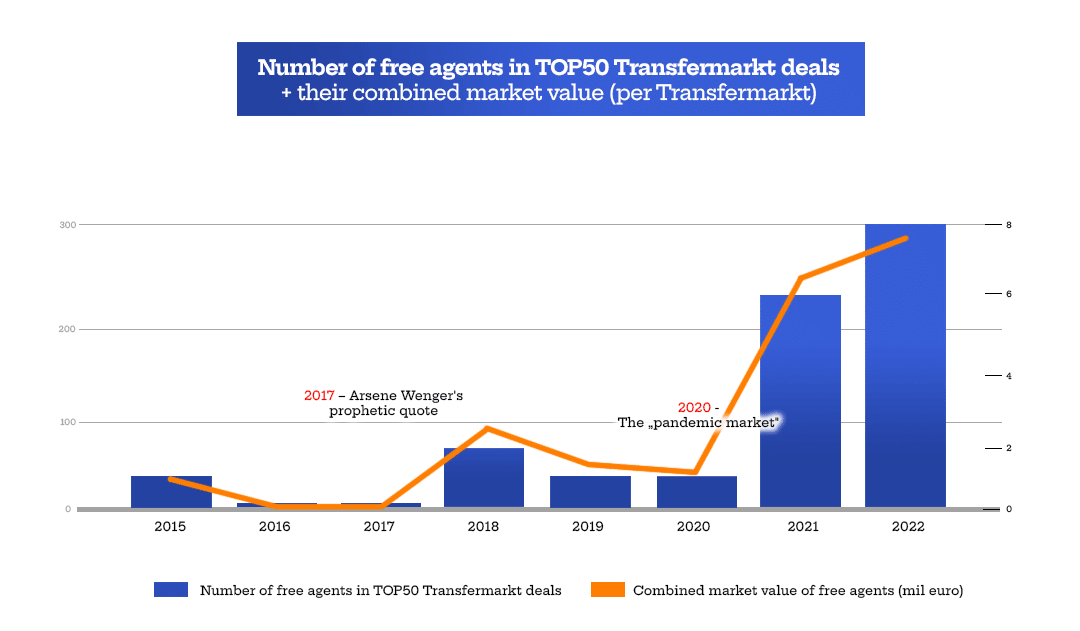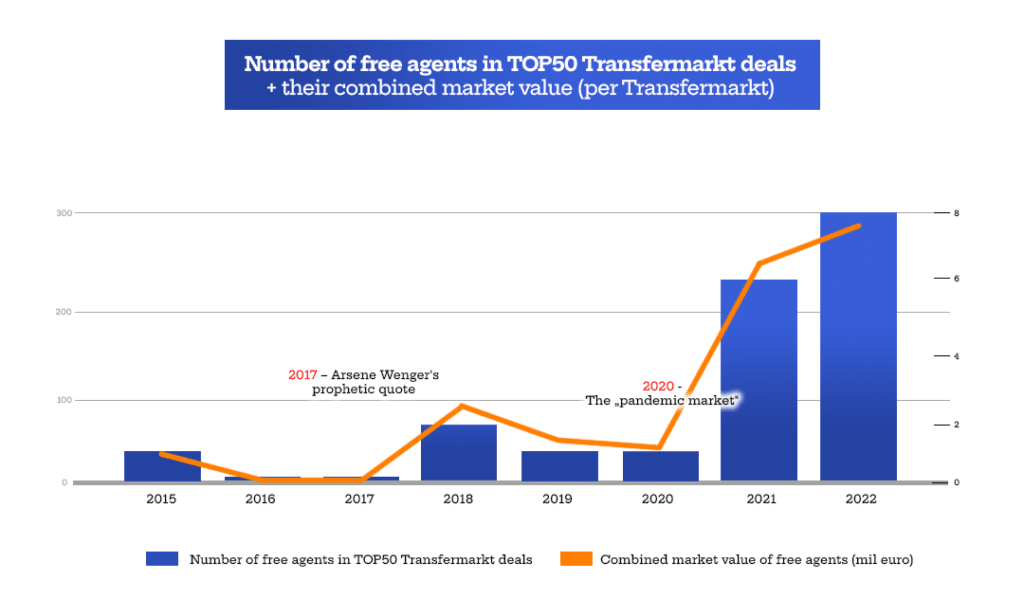 The trend, as can be seen, is upward. Two clubs in particular have a huge part to play in this process – Barcelona and PSG. The former have attempted to 'make up' for financial shortfalls with free agents, while the latter have realised that a huge payout is a much, much bigger magnet than a huge transfer sum.
What awaits us in the "new market"
There will be a significant reduction in the clubs' revenue. Chelsea, in a single window, lost much of the defensive line with whom they recently won the Champions League. Not a pound came back to the club, instead both Rudiger and Christensen accepted handsome signing bonuses in Spain. In total, both are worth around 80 million, which The Blues did not get to replace them.
Deadwood contracts. Here, again, the perfect example is Aaron Ramsey – albeit a complete misfit, he cost the Old Lady an arm and a leg every week. There wasn't half a club in the world willing to take on such a hefty contract, and Ramsey, to his 100 per cent right, wasn't exactly keen to let go of his gold mine.
Financial Fair… what? Not only does no one have a clue how the mythical FFP really works, the general belief is that it doesn't work at all. However, if clubs stop documenting transfer sums overnight, the whole concept will have to adapt to the new situation – otherwise PSG's famous 2021 window will not be an isolated case.
The rise of agent power. When one party is excluded from the transfer equation, another player will be more than happy to jump into the vacant gap. That entity is, of course, agents, for whom the current situation, devoid of transfer fees, marks an excellent opportunity to get a fat cheque for themselves.
A new transfer discourse. This is the least intrusive of the effects, but potentially the most revolutionary for the ordinary football fan. The precedent for changing how we talk about transfers was Erling Haaland's move from Dortmund to Manchester City. At the time, it probably seemed too ludicrous for journalists to report that the Citizens only paid 60 million for the Norwegian valued at 150, so almost every article included a meticulous explanation that the bonuses for the player and agent were by no means a bargain. The more free (or heavily discounted) transfers there are, the more likely it is that there will be talk of all different fees – adding up to total transfer costs. Ramsey for 80 million and Ramsey for free – there is a difference, isn't there?
In a word of conclusion, Wenger's eyes have happily not yet closed, but it is high time to open our own. The transfer market as we have known it so far is likely to undergo, yet another, subversive revolution.