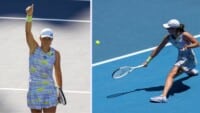 Iga deklasuje. Zobacz ranking WTA na koniec sezonu
Wraz z WTA Finals zakończył się również tegoroczny sezon WTA. Rywalizację tenisistek całkowicie zdominowała Iga Świątek, która z gigantyczną przewagą przewodzi w klasyfikacji na koniec sezonu. Na dobrą sprawę mogłaby zajmować dwa pierwsze miejsca. Zobaczcie, jak prezentuje się czołowa "dziesiątka" rankingu WTA 2022.
Ogólny bilans 67-9, rekordowa seria 37 wygranych meczów z rzędu, 8 tytułów – w tym 2 wielkoszlemowe i 4 WTA 1000s, a do tego drugi najlepszy wynik w historii pod względem zdobytych punktów rankingowych (więcej zaliczyła jedynie Serena Williams w 2013 roku). Iga Świątek to niekwestionowana królowa światowego tenisa.
CZYTAJ TEŻ >>> Genialny sezon Igi Świątek. W czym tkwi jej sukces?
Ranking WTA 2022:

Podobają Ci się nasze teksty? Wesprzyj nas na BuyCoffee! To dzięki Wam treści na TheSport.pl nadal mogą być ogólnodostępne. Dziękujemy za regularne odwiedzanie naszego portalu!

Fot. Asics