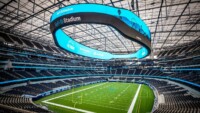 Mundial na luksusowych stadionach NFL
Następne po Katarze piłkarskie mistrzostwa świata odbędą się w Kanadzie, Meksyku i Stanach Zjednoczonych. Na amerykańskim mundialu wystąpi rekordowa liczba drużyn, których po raz pierwszy będzie aż 48. By je wszystkie pomieścić potrzebna będzie również rekordowa liczba stadionów. FIFA ogłosi ich oficjalną listę już wkrótce, ale niektóre pozycje od dawna są "pewniakami" – mundial odbędzie się m.in. na najbardziej luksusowych stadionach NFL, przy których część europejskich obiektów przypomina orliki.
Spotkania w ramach piłkarskich mistrzostw świata w 2026 roku odbędą się na przynajmniej 16 różnych obiektach, a być może nawet na 19. W Meksyku z pewnością będą to stadiony w Mexico City, Guadalajarze i Monterrey, na których odbędzie się w sumie 10 spotkań. Kolejne 10 ugości Kanada, gdzie pewniakami są Toronto i Vancouver, a pod uwagę brane jest również Edmonton.
W Stanach Zjednoczonych zostanie natomiast wybranych od 10 do 12 obiektów, które będą arenami dla w sumie 60 spotkań. Część z nich to najbardziej zaawansowane stadiony na świecie, na co dzień goszczące spotkania NFL. Co ciekawe, boiska do futbolu amerykańskiego różnią się wymiarami od tych do gry w piłkę nożną, a do tego często wyposażone są w sztuczną murawę. W przypadku niektórych obiektów aspekty te stanowią spory problem – ultranowoczny SoFi Stadium wart kilka miliardów dolarów ledwo co został wybudowany, a już będzie musiałby zostać poddany modernizacji, aby mógł pomieścić boisko piłkarskie.
FIFA ogłosi oficjalną listę miast-gospodarzy kolejnego mundialu 16 czerwca, ale już teraz niektóre pozycje są po prostu pewne. Które miasta (na 99%) będą gospodarzami piłkarskich mistrzostw świata w 2026 roku?
Fot. Twitter/Wiki Commons