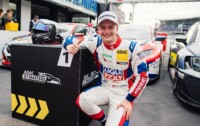 Szymon Ładniak mistrzem juniorów TCR Germany!
Szymon Ładniak z tytułem mistrzowskim ADAC TCR Germany! Podczas ostatniego weekendu sezonu 2022 wygrał oba wyścigi, zarówno w klasyfikacji ogólnej, jak i juniorów. To pozwoliło mu przypieczętować sezonowe zwycięstwo w rywalizacji juniorów oraz utrzymać miejsce na podium.
Podczas ostatniego weekendu startów w sezonie 2022 ADAC TCR Germany Szymon Ładniak był niemal perfekcyjny. Kierowca z Lublina zaczął od drugiego miejsca w piątkowych kwalifikacjach, ale podczas wyścigu kolejnego dnia finiszował jako pierwszy. Udanie wystartował, a następnie kontrolował przebieg wydarzeń.
Już po sobotnim sukcesie Ładniak mógł świętować wywalczenie tytułu mistrzowskiego w klasyfikacji juniorów.
Polski kierowca Liqui Moly Team Engstler podszedł w pełni skoncentrowany także do niedzielnego wyścigu, gdzie walczył o jak najlepsze miejsce także w klasyfikacji ogólnej. Podczas drugiego startu na torze Hockenheim ruszał z pole position i pozycji lidera nie oddał od początku aż do końca.
Ostatecznie Szymon Ładniak zakończył sezon 2022 na trzecim miejscu w klasyfikacji generalnej. Po tytuł sięgnął jego kolega z zespołu, Martin Andersen. Wspólnie nie dali szans rywalom w rywalizacji drużynowej. Liqui Moly Team Engstler miał aż 160 punktów przewagi nad kolejną drużyną.
— To był fantastyczny sezon. Zdarzały się trudniejsze momenty, ale cały czas rozwijaliśmy się i rośliśmy jako zespół. Odebranie trofeum to ukoronowanie tego pięknego czasu, ale to właśnie ciągły rozwój sprawia mi największą radość. W kolejnym sezonie będę jeszcze silniejszy — ocenia Szymon Ładniak.