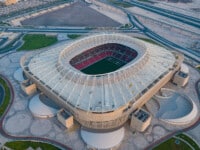 Zobacz stadiony na mistrzostwa świata w Katarze! [ZDJĘCIA]
Piłkarskie mistrzostwa świata w Katarze ruszają 20 listopada. Jeżeli zapomnieć o wszystkich skandalach i kontrowersjach związanych z ich organizacją, jak i o tysiącach ofiar, które pochłonęła budowa stadionów, na piłkarzy czekają piękne areny. Aby je wszystkie zobaczyć, zajrzyjcie do naszej galerii.
Każdy z ośmiu mundialowych stadionów został wyposażony w co najmniej 40 000 krzesełek. Największy z nich ma ich 80 000, a ich łączna pojemność wynosi 380 000. To oznacza, że mogłoby je wypełnić ok. 14 proc. populacji Kataru. Co najlepsze, odległość między dwoma najdalej oddalonymi od siebie stadionami wynosi zaledwie 55 km. Szczegółowe porównanie map Polski i Kataru zobaczycie TUTAJ.
Stadiony na mistrzostwa świata w Katarze:

Podobają Ci się nasze teksty? Wesprzyj nas na BuyCoffee! To dzięki Wam treści na TheSport.pl nadal mogą być ogólnodostępne. Dziękujemy za regularne odwiedzanie naszego portalu!