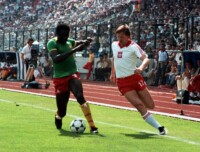 7 kultowych koszulek mistrzostw świata
Mundial nadciąga nieubłaganie jak wślizgi Jacka Góralskiego i skoro przedstawiliśmy Wam już wszystkie pomysły producentów, które mają za zadanie wydrenować wasz portfel oraz opisaliśmy, jak wizualnie oceniamy ten czempionat, to czas by zabrać was w nostalgiczną podróż po kultowych koszulkach MŚ (podkreślamy – chodzi tylko o MŚ). By było prościej, lecimy slajdami, a kolejność przypadkowa. Przedstawia Michał Mączka, znany jako Futboholik.
Sprawdźcie również przegląd koszulek na mistrzostwa świata w Katarze (część 1. TUTAJ, część 2. TUTAJ)
Galeria:

Podobają Ci się nasze teksty? Wesprzyj nas na BuyCoffee! To dzięki Wam treści na TheSport.pl nadal mogą być ogólnodostępne. Dziękujemy za regularne odwiedzanie naszego portalu!

Fot. Łączy nas Piłka