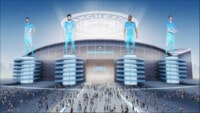 Manchester City zbuduje stadion w Metaverse
Etihad Stadium Manchesteru City będzie gromadził kibiców nie tylko na trybunach, ale również w Metaverse. Mistrzowie Anglii przy współpracy z firmą Sony rozpoczęli budowę pierwszego na świecie stadionu piłkarskiego zlokalizowanego w wirtualnej rzeczywistości. Jakie stwarza to możliwości?
🚨 Manchester City will become the first Premier League club to enter to Metaverse after beginning construction of the virtual Etihad stadium with the help of Sony's VR experts.

They have signed a 3-year partnership with Sony. 

(Source: SI) pic.twitter.com/TBTRVgfu1P

— Transfer News Live (@DeadlineDayLive) February 22, 2022

 
Wirtualna rzeczywistość coraz popularniejsza
Manchester City dołącza do grona sportowych organizacji, które chcą wykorzystać możliwości, jakie oferuje Metaverse – świat osadzony w wirtualnej rzeczywistości. W jego ramach użytkownicy mogą wchodzić w interakcje z cyfrowym światem za pomocą zestawów VR lub przeglądarek internetowych. Takie "cyfrowe wszechświaty" obsługują również kryptowaluty i NFT, a swoje globalne znaczenie i zaangażowanie użytkowników budują, organizując różnego rodzaju wydarzenia rozrywkowe.
The Citizens nie są pierwszym sportowym podmiotem, który postanowił zainwestować w technologię VR. W Metaverse odbył się już styczniowy Australian Open, a niedawno pracami nad podobnym projektem chwalili się Brooklyn Nets.
CZYTAJ WIĘCEJ >>> Australian Open odbędzie się w Metaverse
CZYTAJ WIĘCEJ >>> Brooklyn Nets obejrzymy w Metaverse
Welcome to the "Netaverse" 🏀

This weekend, the Brooklyn Nets debuted a brand new, innovative video system creates 3D, lifelike renderings in seconds.

The Nets are the first pro sports team in America to implement the technology.pic.twitter.com/TopdvOM9IU

— Front Office Sports (@FOS) January 17, 2022

 
The Citizens wchodzą do Metaverse
"Obywatele" zawarli trzyletnią umowę z Sony, które ma być odpowiedzialne za przeniesienie Etihad Stadium do świata wirtualnej rzeczywistości. Specjaliści japońskiego giganta technologicznego odwiedzili już stadion w Manchesterze, który zamierzają teraz odwzorować cyfrowo w Metaverse, m.in. dzięki technice skanowania.
Klub przekonuje, że projekt umożliwi fanom z całego świata uczestniczenie w meczach City z zupełnie nowej perspektywy i przeżywanie emocji podobnych do tych, których można doświadczyć na trybunach, nie ruszając się z domu.
This is the incredible tech Sony and Manchester City is using to create a 1/1 game model for their Metaverse stadium. 🤯 pic.twitter.com/CPnD2GWUiu

— Kingz (@NFTKingz) February 21, 2022

 
– Idea projektu Metaverse polega na tym, że można dzięki niemu oglądać mecz na żywo, być częścią akcji z różnych perspektyw i zajmować dowolne miejsce na Etihad, ponieważ jest on całkowicie wirtualny. Wierzę, że klasyczny obraz kogoś siedzącego na sofie i oglądającego transmisję w telewizji jest czymś, co zniknie z rzeczywistości w ciągu dziesięciu lat, lub nawet wcześniej – przekonuje Nuria Tarre – specjalistka ds. marketingu mistrzów Anglii.
Oprócz oglądania meczów z dowolnej perspektywy dzięki kamerom 3D rozlokowanym wokół placu gry niczym w grze komputerowej, za pomocą Metaverse kibice mogliby również m.in. spotykać się z piłkarzami, czy kupować cyfrowe pamiątki, np. w formie kolekcjonerskich NFT.