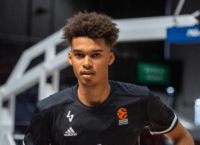 NBA wykupiła prawa do całej ligi dla jednego gracza
Victor Wembanyama stał się sławny dzięki niesamowitym występom w sparingach z drużynami z G-League, która stanowi zaplecze NBA. Francuski koszykarz zdobył w dwóch spotkaniach odpowiednio 37 i 36 punktów. NBA na tyle dało się oczarować niesamowitemu francuskiemu talentowi, że postanowiło wykupić prawa telewizyjne do całej ligi francuskiej, żeby móc pokazywać jego mecze na swojej platformie.
Wembanyama to niemal pewna jedynka kolejnego draftu. Mimo 225 centymetrów wzrostu Francuz porusza się jak zawodnik obwodowy. Do tego ma dopiero 18 lat. Eksperci widzą w nim przyszłą gwiazdę NBA.
The NBA plans to stream every one of Victor Wembanyama's games during his 2022 season.

👀 pic.twitter.com/Z6dM2CJj6M

— Legion Hoops (@LegionHoops) October 27, 2022

 
Dzięki popisom Wembanyamy fani NBA z zapartym tchem śledzą jego karierę. Jak widać, ten optymizm podzielają również władze ligi, ponieważ właśnie zdecydowały się na wykupienie praw telewizyjnych do pokazywania ligi francuskiej – LNB oraz krajowego pucharu – Leaders Cup.
Przede wszystkim chodzi o zespół Boulogne-Levallois Metropolitans 92 i występującego w jego szeregach Wembanyamę. Mecze mają być dostępne w ramach NBA League Pass. Spotkania zostaną wzbogacone o angielski komentarz.
CZYTAJ WIĘCEJ >>> Victor Wembanyama – koszykarz z innej planety?
Victor Wembanyama helped Metropolitans 92 to a fourth straight win in France, over second place Blois, posting 17 points, 7 rebounds, 6 assists, 5 blocks in yet another dominant two-way performance showing why he'll be the No. 1 pick in the draft this June. pic.twitter.com/0Ru53E1bM3

— Jonathan Givony (@DraftExpress) October 21, 2022

 
CZYTAJ WIĘCEJ >>> Na ile stać Jeremy'ego Sochana?