wstecz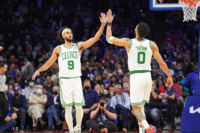 Explain the NBA: Na Wschodzie robi się zielono
W najnowszym odcinku naszego podcastu dominuje kolor zielony. Boston Celtics wygrali 9 meczów z rzędu i to właśnie zespołem prowadzonym przez Ime Udokę zajmujemy się przede wszystkim. Omawiamy transfer Derricka White'a z San Antonio, oceniamy, co zmieni w "Celtach" ten gracz, przyglądamy się też nieco bliżej roli trenera Udoki i generalnego menedżera Brada Stevensa. Podkreślamy też znaczną poprawę gry w obronie Bostonu w trakcie ostatniej serii zwycięstw.
Za to w subiektywnym przeglądzie tygodnia odpowiadamy na Wasze pytania – o wymianę Harden-Simmons, o C.J.'a McColluma w Nowym Orleanie, a Mirosław Noculak tłumaczy, dlaczego jego zdaniem FIBA to "pasterze". Właściwą, prawdziwie mięsistą historię zostawia jednak na koniec i wraca do Meczu Gwiazd z Oakland z 2000 roku. A my typujemy, kto wygra konkursy podczas tegorocznego Weekendu Gwiazd, jak i sam mecz.
—————
"Explain the NBA" to cotygodniowy podcast na TheSport.pl prowadzony przez Mirosława Noculaka i Radosława Spiaka. Omawiają i analizują to, co dzieje się na parkietach NBA, przyglądają się drużynom pod kątem taktycznym, tłumaczą, dlaczego ktoś gra tak, a nie inaczej. Przybliżają to, czego na pierwszy rzut oka nie widać. "Explain the NBA" można słuchać na platformach Spotify, Apple Podcast i Google Podcast.