wstecz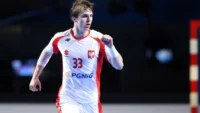 Pasażer na Gapę #01: dlaczego świat nie kocha piłki ręcznej? 
Gościem pierwszego odcinka Pasażer na Gapę jest Paweł Paczkowski – wielokrotny reprezentant kraju w piłce ręcznej i zwycięzca Ligi Mistrzów z 2016 roku. W nowym formacie Kamil Gapiński rozmawia z rozmaitymi gośćmi o blaskach i cieniach świata sportu.
Skąd u niego miłość do teleturnieju "1 z 10"? Co łączy Talanta Dujszebajewa i Steve'a Jobsa? Jakie są cechy wspólne Vive, które wygrało Champions League sześć lat temu, z zespołem, który w czerwcu zajął w tych rozgrywkach drugie miejsce? Jak to jest żyć przez lata z łatką wielkiego sportowego talentu? Zapraszamy do odsłuchu!
_______________________
Kamil Gapiński to dziennikarz z 22-letnim stażem, który pracował między innymi w Przeglądzie Sportowym i radiu TOK FM. Był też redaktorem naczelnym Weszło FM. Od 2018 roku prowadzi swój program triathlonowy – TriGapa. Co drugi piątek na naszych łamach będzie ukazywać się podcast, w którym rozmawia z ludźmi polskiego sportu.