wstecz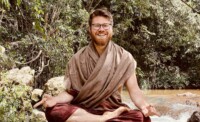 Podcast: Jak zacząć medytować?
Tu podcast Głowa Rządzi. W tym odcinku wspólnie z moim gościem, Wolnym Duchem, Danielem Pisko poruszamy temat medytacji.
Daniel dzieli się swoją historią, wieloletnim doświadczeniem i przemyśleniami na temat praktyki medytacji w codziennym życiu. Ja staram się to wszystko integrować i odnosić do świata sportu. Dzielę się też swoimi poglądami na temat tego, jak i dlaczego warto wykorzystywać praktyki medytacyjne w przygotowaniu mentalnym do rywalizacji sportowej, ale też w dbaniu o zdrowie psychiczne.
Podcast prowadzi Grzegorz Więcław. Certyfikowany psycholog sportu Europejskiej Federacji Psychologii Sportu FEPSAC, absolwent wydziału psychologii i komunikacji na Simon Fraser University (Vancouver, Kanada) oraz psychologii sportu i aktywności fizycznej na University of Jyväskylä (Jyväskylä, Finlandia).
Obecnie współpracuje m.in. z Polskim Związkiem Lekkiej Atletyki, Akademią Piłkarską Piasta Gliwice, Śląskim Związkiem Piłki Nożnej, szkołami mistrzostwa sportowego i zawodnikami indywidualnymi różnych dyscyplin sportowych.