wstecz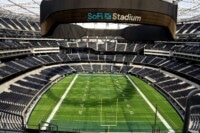 PR i Marketing: Magia Super Bowl
Super Bowl to wydarzenie, które co roku skupia na sobie uwagę całego świata. I być może futbol amerykański nie jest popularny na całym świecie tak jak w USA, ale podczas finału potrafi zainteresować nawet największych laików. W czym tkwi marketingowa magia tego wydarzenia? Odpowiedź na to pytanie znajdziecie w naszej rozmowie z Michałem Latosiem, prezesem Panthers Wrocław.
Kończący się właśnie sezon National Football League, z pewnością przejdzie do ponad stuletniej historii ligi. I to nie tylko ze względu na aspekt sportowy i niesamowite emocje w playoffach. Tegoroczna kampania to również imponujące wyniki w zestawieniach słupków oglądalności telewizyjnej oraz ekspansji na rynek europejski, w efekcie której od nowego sezonu oprócz tradycyjnych już meczów w Londynie, NFL zawita również do Monachium w 2022 roku i Frankfurtu w 2023.
Korzystając z obecności gościa, postanowiliśmy wypytać go również o to, jakie inspiracje zza oceanu można przenieść do Europy. Czy NFL jest dobrym wyznacznikiem dla drużyn grających w European League of Football?
Rozbieramy również na czynniki pierwsze to jak wygląda cała otoczka dnia meczowego w NFL oraz tłumaczymy, dlaczego mecz jest tylko jednym z dodatków do całego widowiska.
__________________
Podcast "PR i MARKETING W SPORCIE" to projekt realizowany przez TheSport.pl oraz Agencję Publicon. Analizujemy najciekawsze wydarzenia w świecie sportu od strony marketingu, komunikacji i PR. Prowadzą Damian Filipowski (TheSport.pl) i Michał Tkaczyszyn (Publicon).